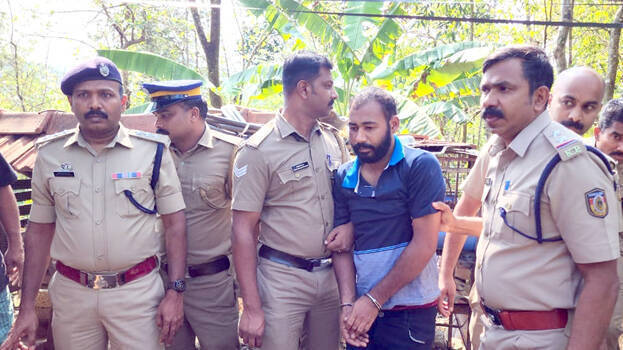 KATTAPANA: Vijesh was caught in the case of murdering his wife, a teacher and hiding it under the bed, due to overconfidence that he would not be caught. Vijesh believed that the incident would not be exposed after he was in the place for three days after the murder. He thought that his relatives and locals would believe his lie that his wife Anumol had left him. He had lit an incense stick and had switched on the fan in the room to prevent foul smell emanating from the body. He believed that if he stayed away for a few days, everything would be resolved. The accused left for Tamil Nadu on Tuesday and wandered around in various places in Tamil Nadu until Saturday. He did not know that Anumol's body was found or that the police were looking for him as he did not have a mobile phone in his hand and did not watch the news.
He thought that since it had been a week since the murder, the body must have been decomposed. He believed that he will be free when he returns and dumps the bones. He left for home on Sunday morning. He reached Kumily and after captured in CCTV, the police caught him. He came to Kerala on foot from the Tamil Nadu bus stand in Kumily as he did not know that the police were behind him. Then he went to Rosapookandam, changed his clothes and was caught him when he went to the town.
Vijesh showed the police the way the murder was committed, the place where the items including the shawl used for the murder were burnt and the remains. The police collected the remnants of the things including the shawl. Vijesh also told the police that he attempted suicide after the murder. Many including relatives and locals, came to the place after hearing that Vijesh was being brought to his home for evidence collection yesterday morning.
Vijesh told police that he strangled her with a shawl from behind. After coming home from school on Friday, Anumol and her husband had a long argument regarding divorce. Vijesh was angered by Anumol's complaint filed at Kattappana women's cell against his harassment. Vijesh from then one decided to endanger Anumol.
He then covered the body in a blanket and hid it under the bed. After the murder, Vijesh, locked his house and went out without showing any difference of expression, later pledged her gold for Rs 16,000 at a private money lending firm. Evidence was collected from the firm.