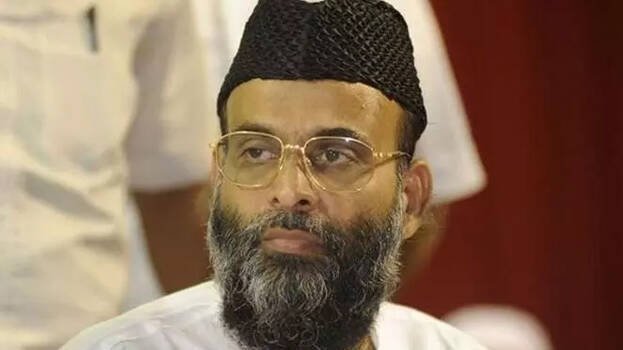 NEW DELHI: The Karnataka Anti-Terrorism Cell requested that PDP Chairman Abdul Nazer Mahdani, accused in the Bengaluru blast case, should not be allowed to return to Kerala and should not relax his bail conditions also. In the affidavit filed in the Supreme Court, the Karnataka government mentioned that Mahdani is an accused in the case affecting the security and integrity of the country. The affidavit was filed in the court by Karnataka Anti-Terrorism Cell assistant commissioner Dr Sumeeth.
Mahdani may flee if his bail conditions are relaxed. The affidavit said that he may contact the six accused who are on the run and there are chances for him to collect information and threaten the witnesses.
The apex court had earlier asked that if the trial in the blast case is completed, can't permission be given to return to Kerala. The plea was postponed to April 13 after accepting Karnataka Government's request seeking time to reply. Following that, the government filed the affidavit today. The court will consider his demand seeking permission to return to Kerala on Thursday.