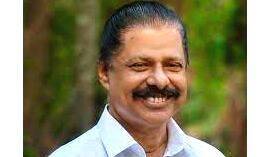 THIRUVANANTHAPURAM: There is no point in asking about birthday celebrations to CPM state secretary MV Govindan, who has never celebrated a birthday in his life. This year is no different even as he turned 70 on Sunday. He received the birthday wishes over the phone with a long and broad laugh.
"Hey, I've never celebrated birthdays. Party's available secretariat is over. I'll now go to Kollam. I have to attend two events there. I never even think about birthdays," Govindan said when asked about his birthday.
Anyone who knows MV Govindan, who leads the CPM in Kerala from the front, is not surprised by this. All Govindan has to know, say and teach is about the party. He gives no importance to personal matters. He was at the AKG centre till yesterday afternoon. He went to Kollam in the afternoon. He attended two programs there.
Govindan was born on April 23, 1953 as the son of K Kunjambu and MV Madhavi in ​​Morazha in Thaliparamba taluk in Kannur. Govindan, who was born at a time when communism was flourishing in the state, also fell in love with the red flag.
"I never celebrated my birthday even when I was in school. I don't even think about it after I entered full-time politics," he said.