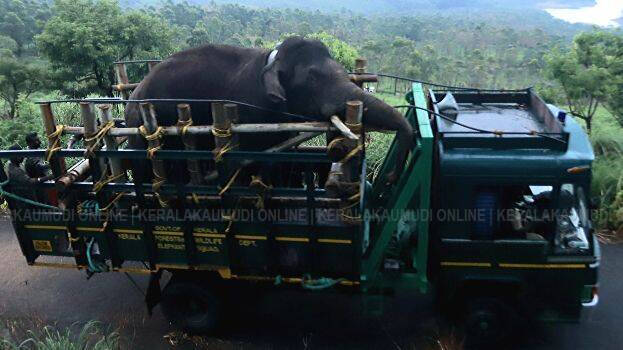 MUNNAR: Arikomban, the rogue tusker that lived its best days in Chinnakanal and was ruling the area for decades, has been released into the inner forest of Periyar tiger sanctuary. The wild tusker was released early Sunday morning at 4 am. The tusker was released near Senioroda, 23 km away from the inhabited area of Kumali. It is believed that the tusker will not reach the inhabited area. The first signals from the radio collar have been received. With this, the mission has been a complete success. The forest department officials said the tusker has no health issues.
The mission to capture the elephant started at 6 yesterday morning and was completed at 6 pm. Dr Arun Zachaira fired the first tranquiliser at 11.57 am near the Chinnakanal Cement Bridge. The fifth dart was given at 4.40 pm and the task force made the tusker enter the vehicle. The elephant was in a semi-conscious state for that long and resisted the four Kumkis.
The lorry carrying the tusker in a wooden cage left at 6.05 pm to Mullakudi after attaching the GPS radio collar. The mission team, the police and other officials moved in front and behind during the journey of 122 km. Arikomban, who became fully conscious at 9 pm, created a tense situation at Nedukandam area. One more booster dose had to be given.
The vehicle cavalcade entered the forest area at 10.30 pm after performing a pooja at the entrance of the Periyar wild life sanctuary, for ten minutes. The journey ahead was a bit slow.
Mission of radio caller
The sound can be heard through the radio system. The noise can be heard in case of attack by other animals. Through the GPS system, the watchmen can identify the location and drive away the animals. If the elephant is on its way to inhabited areas, it can still be turned back.
The life of the battery is three years. By then, the elephant will be in tune with the forest.