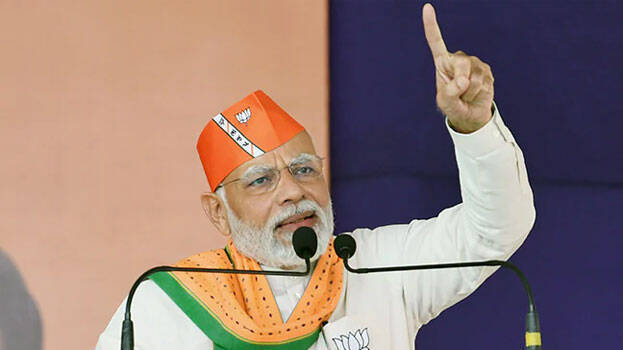 BENGALURU: The Congress has lashed out at Prime Minister who arrived in Karnataka for the election campaign. The Congress sought an apology from the Prime Minister for insulting millions of Hanuman devotees by comparing Hanuman with right-wing outfit Bajrang Dal. The Prime Minister made the remark while reacting to Congress' manifesto which promised to ban Bajrang Dal.

"Earlier the Congress locked up Lord Ram and now they want to lock up those who chant 'Jai Bajrang Bali'. This is the country's misfortune that the Congress had a problem with Lord Ram and now it has a problem with those who say Jai Bajrang Bali," Modi said. It was this remark that irked the Congress.
"The Prime Minister is not ready to speak about the corruption of the BJP government in Karnataka. They are only trying to create polarisation even as they refuse to reply to questions regarding rising prices, unemployment, and wealth accumulation. Any individual or organization that spreads hatred and enmity should be punished as per law. However, neither the Prime Minister nor the Chief Minister is ready to follow the existing legal system in the country. Lord Hanuman depicts piousness, commitment to reverence and duty. Lord Hanuman symbolises service and sacrifice. To compare Lord Hanuman as synonymous to any individual or organisation is an insult and PM is hurting the feelings and sentiments of millions of Bhakta of Hanuman ji," Congress spokesperson Randeep Surjewala said on Twitter.
Both the Congress and the BJP had recently released their election manifestos, competing in communal appeasement as well as providing freebies.