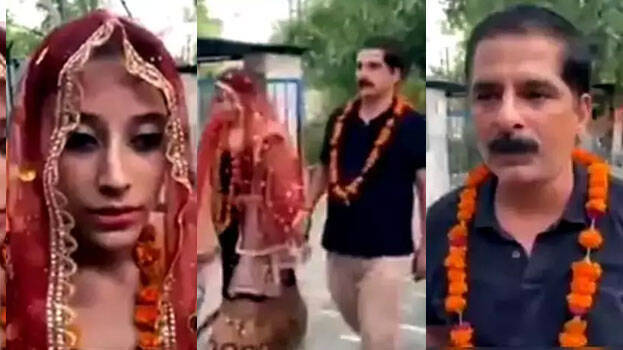 Father married his daughter-in-law after the death of his son. A video of the two coming out of the temple after the wedding has surfaced. The footage was shared by the Twitter id @Itz_Kainat__. In the footage, two youths are seen interrogating the couple. More than two lakh people have already watched the video.

Men approach with cameras and then take turns asking them questions when the two come down from the temple after the wedding. The woman says in the video that since her husband is dead, she has no one else, and that is why she is marrying her father-in-law despite him being so old. In the video, it is said that she is 25 years old and her father-in-law is 45 years old.
However, the video is scripted. The six-and-a-half-minute-long video has been shared by them on YouTube as well. The video ends with a disclaimer that reads, "Everything in this video is imaginary. Imaginary because reality is too bitter to be told or shown. Events shown in this are not real compared to what has actually been happening in countries like ours."
There are many comments below the video like 'If they don't have a problem then what's your problem', 'This is a fake video', and 'The person who spread this video should be sued'.