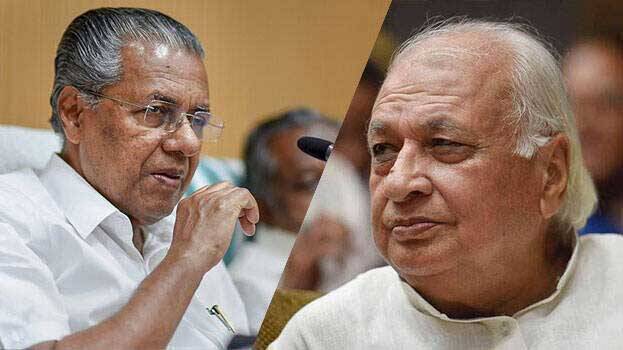 THIRUVANNATHAPURAM: Chief Minister Pinarayi Vijayan has indirectly criticized Governor Arif Mohammad Khan for withholding some of the bills passed by the assembly by not signing them. The Chief Minister criticized the Governor during the inauguration of the 25th-anniversary celebrations of the Legislative Assembly building in the presence of the Vice President and the Governor.
The Chief Minister said that even while enumerating the achievements in the field of law-making in Kerala, one should not forget the fact that some bills were withheld even after they were passed by the Legislative Assembly.
"Many laws passed by the legislature have had far-reaching results on the social, cultural and economic spheres of the state and the lives of the people. Not only other states but also the country have made laws by following the footsteps of the Kerala assembly," the CM said.
"When speaking about the history of Kerala's growth, one must say about things that happened from the time of the Sree Moolam Popular Assembly. People like Kumaranashan and Ayyankali raised their voices there for social justice. We are moving forward on that path. Envisioned as an independent socialist republic, India has three pillars. There are mutual restrictions on the powers of those three pillars. However, there is a strong complaint that one branch is interfering with the other by ignoring these restrictions. It is imperative to make people aware that this allegation is baseless," he added.
Governor did not respond
However, Governor Arif Mohammed Khan did not respond to the Chief Minister's criticism. He, however, praised Kerala's achievements in law-making. The Governor said that the Kerala Legislative Assembly has been the platform for many of the most progressive legislations in the country.
"Many laws passed by this legislature created great changes in the social, economic, and political aspects of the state and the life of the people. There have been interventions from our members to empower marginalized communities and strengthen our democracy and health system since the first legislative assembly," the governor said.
Governor Arif Mohammad Khan, who spoke half of his speech in Malayalam, received a standing ovation from the audience. He said that the Kerala Legislative Assembly is one of the most magnificent and beautiful buildings in the country. He only delivered the last part of the speech in English.