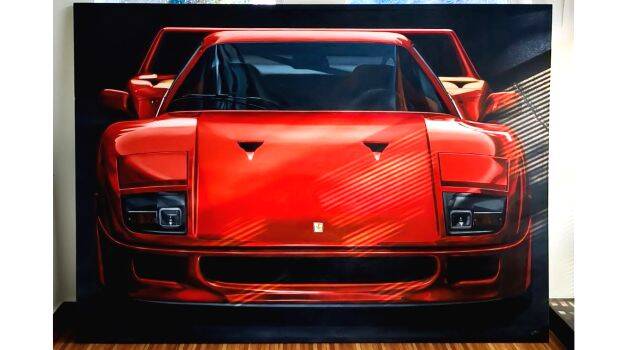 KOCHI: Adani's son Karan Gautam Adani bought the painting of the supercar Ferrari F40 that Arjun completed on canvas. The price has not been disclosed.
Capturing supercars, the charm of the super-rich, on canvas is the craze of South Paravur resident Arjun C Mohan. Karan Adani, the CEO of Adani Ports, bought the painting after seeing the pictures on Instagram. Arjun, who is also an engineer, said that he accepts whatever amount people who know the value offer him.
Has not studied drawing; an innate talent
Arjun was obsessed with cars when he was in school itself. He got a job immediately after graduating in mechanical engineering but did not give up drawing. Eventually, he became a full-time painter of his favorite cars. Arjun earns a decent amount as royalties from pictures posted on car companies' sites in Europe and America.
Apart from acrylic, watercolor, and oil paintings, the collection also includes pencil drawings. These include bikes, teas, landscapes, and pictures of loved ones.
Arjun is the son of retired KSEB employee CP Mohan and OEN officer Rama. His wife is Aparna, a native of Kanjiramattam and an engineer.
Know the giants
Cars like Porsche, Ferrari and Bugatti are painted on 7x5 and 4x3 feet canvases. As per the interest of the companies, a painting exhibition will be held soon. Buying old vehicles and refurbishing them in the same way as the company made them is also a hobby of Arjun. He owns a Maruthi car and a Bajaj scooter which was refurbished like this.
Subtle factors add value
Three or four pictures will be drawn simultaneously. It can take weeks or months to complete. Value and cost depend on how many micro-elements are included. "Cars" gain Arjun a better income than his job.