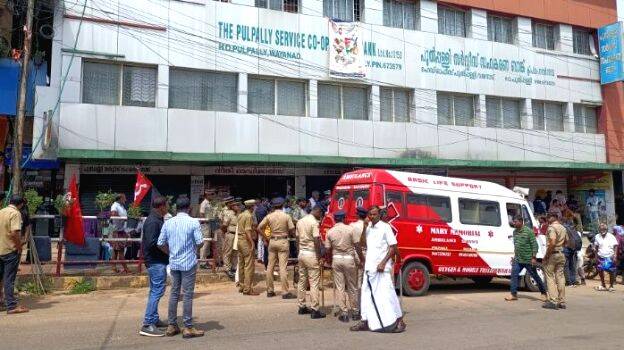 PULPALLY: The Janakeeya Samara Samithi on Wednesday took out a protest march with the dead body of Pulpally native Rajendran Nair (60), who committed suicide the other day in connection with the loan fraud in the Pulpally Service Co-Operative Bank. The workers of the Samara Samithi and the family members came to the bank in a mourning procession from Thazhe Angadi in Pulpally.
Following this, the police stopped the move to take the dead body to the house of former bank president KK Abraham. With this, the workers of the strike committee returned in front of the bank with the dead body. However, the police did not allow the protesters to take the dead body from the ambulance. This led to arguments between the protesters and the police. Sultan Batheri Tehsildar Shaji reached the spot and held talks with the protestors. He assured that he would recommend the government to provide adequate compensation to Rajendran's family. The dead body was then taken home and cremated. Parties such as BJP, Aam Aadmi Party and Kerala Congress (M) also protested.
Former bank president and secretary taken into custody
Former bank president and KPCC secretary KK Abraham and former secretary K Ramadevi have been taken into police custody in connection with the suicide of Rajendran Nair. Abraham, who was taken into custody at midnight last night, was admitted to Sultan Batheri Taluk Hospital after he fell unwell. Abraham was the president of the bank in 2016 when the fraud took place.