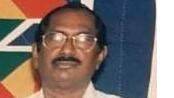 PEROORKADA: An elderly couple was found dead inside their home in Parottukonam in Mannanthala, Thiruvananthapuram. The deceased are Nalanchira native Pushpangadan (85) and his wife Shantha (82). The police are of the conclusion that Pushpangadan committed suicide after killing his wife.
Shantha's body was lying on the floor from the bed in the bedroom. There are stab injuries in the neck. Police also found a knife in the room. Pushpangadan's body was found hanging from the ceiling fan in another room. There was a wound on his wrist. The two bodies were found in the two bedrooms of the house yesterday morning. They are the only two living in this house for years.
A neighbouring woman used to come over to the house during the day to cook and perform outdoor work. She arrived at the couple's home on Wednesday morning and rang the doorbell. However, there was no reaction coming from within. She then called the neighbours. The couple was discovered lying dead as the neighbours broke into the home.
Mannanthala police and forensic department officials reached the spot and collected evidence. Pushpangadan was an official at Abu Dhabi Airport. Shantha was an officer at Mumbai Bhabha Atomic Research Centre (BARC). They settled in Parottukonam 20 years ago.
Their elder son Anilkumar is in Canada. Their younger son Sunilkumar is a UAE Central Bank officer in Abu Dhabi.