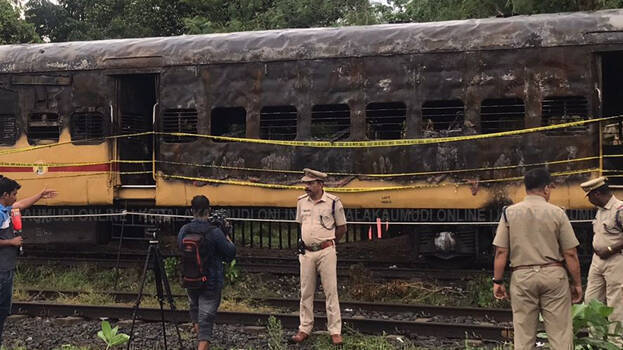 KANNUR: The arrest of the native of Bengal who is in custody in the train fire case, will be recorded today. The person in custody is Pushanjith Sidgar. Reports said four of the ten fingerprints obtained from the train are similar to those of Pushanjith. Also, the bottle recovered from the burnt coach has his fingerprints.
The arrest of the native of Bengal will be recorded only after a detailed interrogation. The police are checking more CCTV visuals of the area. The officials of the railway will conduct further inspection in the train today.

The incident happened on the Kannur-Alappuzha Executive Express Thursday early morning at 1.30 am. The train was set on fire while it was stationed at the Kannur station yard after the journey. One bogie was completely burnt in the fire.

The person in custody is showing some mental issues but the police have not believed it. He was earlier taken into custody for burning garbage near the train. He was released then citing mental issues. He was found in the premises of Kannur railway station late Wednesday night. The CCTV visuals obtained from BPCL show a man going near the train Thursday early morning at 1 am. This helped in nabbing the Bengal native. However, even after questioning him by a team led by city police commissioner M R Ajith Kumar, he has not confessed to the crime. He is being questioned in the presence of a Hindi translator in an unknown place. His statements are contradictory. He first said that he burnt the garbage and then he changed his statement. Similarly, in between he said that he set the fire on train and in the next moment changed it.