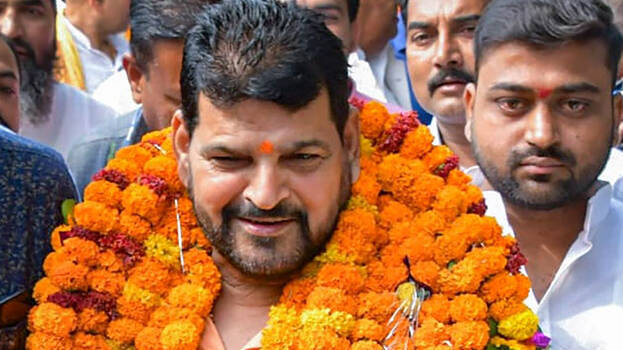 NEW DELHI: Reports said an FIR has been registered against BJP MP and National Wrestling Federation President Brij Bhushan Saran Singh, who is facing sexual allegations. The police action is after the wrestlers intensified their protests against him. The FIR mentioned serious allegations such as touching the body with sexual intent without consent, sought private information, demanding sexual advances in return for treatment of injuries sustained during the tournament with money from the wrestling federation, touching the breast of a minor and stalked her.
Two FIRs have been registered on the complaint of seven women wrestlers at the Connaught Place. The police considered the complaints of six together and that of the complaint of minor girl's father separately. The FIR mentioned the incidents that happened in India and abroad from 2012 to 2022.
One complaint alleged that he (Brij Bhushan) pulled up her T-shirt, slid his hand down her stomach, and put his hand on her navel on the pretext of checking her breath. She also said that he offered her an unknown edible which is not approved by her dietician or coach, saying it would be good for her health and performance.
Another complaint said that while going for dinner, he will call us and then touch our breast and stomach without permission. When posed for the team's group photo, he touched her buttocks.
Meantime, Brij Bhushan had denied all the allegations levelled against him. He yesterday said that if a single allegation against him is proved, he is ready to hang himself. Brij Bhushan also claimed that it was because of his hard work that the country, which was in 20th position in wrestling, reached the fifth position.