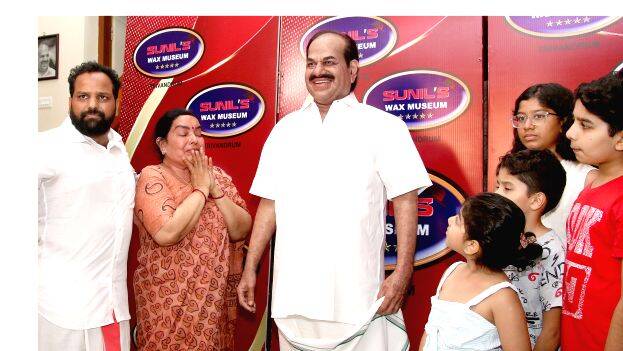 THIRUVANANTHAPURAM: A feather white shirt with fingers crisply holding the fag end of the dhoti; The deftly combed hair and the ubiquitous smile were enough for Vinodhini to burst into tears. The wax statue of former politburo member Kodiyeri Balakrishnan was unveiled today as tears welled up in all family members present. The late leader's son Bineesh Kodiyeri consoled his mother who was shattered reminiscing the bygone days with the communist leader.
Famous sculptor Sunil Kandalloor prepared this pitch-perfect replica of the late leader which exhumed life. The event was conducted in Kodiyeri's home in Maruthamkuzhi. Vinodhini, the wife of the late leader turned standstill as she later held close the late leader's statue hand whimpering over the memories.
The attire used in the statue is the same that Kodiyeri wore during his time at the party. The total cost of the project is Rs 3.8 lakhs. The statue will be kept in Sunil's wax museum store in East Fort. The sculptor said, he had the urge to do the work even during the leader's lifetime but admitted to other engagements which dragged the project for a long.