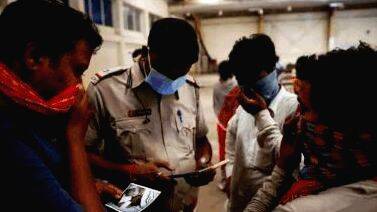 BALASORE: The father, who was told by others that his son had died in the previous day's train accident, refused to believe it. He found his son's pulsing body among the corpses. The son was taken to the hospital and brought back to life soon.
Helaram Malik, a shop owner in Howrah, is the one who brought his son Biswajit back from death.
Helaram, who returned after dropping his son at Shalimar station to board the Coromandel Express, was met with tragic news. He called his son on the phone but he did not pick up. After calling several times, someone picked up. ''The owner of this phone is dead… this was the reply from the other side. Helaram was not ready to believe it. He left for the incident site, 230 km away. He asked ambulance driver Palash Pandit and his brother-in-law Deepak Das to come along for help. By the time they reached Balasore, it was past midnight. He went from hospital to hospital but his son was nowhere to be found. He looked at the list of dead. It had his son's name on it. ''No, he is not dead…Helaram was mumbling. He still searched the mortuaries but he couldn't find his son anywhere. Not knowing where he was, the volunteer sent Helaram to Bahanaga High School. When Helaram reached there, what he saw was a long row of dead bodies. None of them was his son. Reaching the next hall, Helaram ran around. A slight movement on a corpse's fingers. Helaram screamed and looked at that face, it was his own son. Others came running. Biswajit was taken to Balasore Hospital in an ambulance and from there to Cuttack Medical College. Two operations were successfully completed yesterday and the leg has to be re-operated. The right arm has multiple fractures. Helaram is also under treatment. The explanation given by the authorities is that Biswajit, who was in an unconscious state, might have been shifted with the dead bodies by mistake.
If Helaram had not arrived at that time like a divine call, perhaps the 24-year-old Bishwajit would have lost his life and his corpse would have also been counted along with the dead bodies.