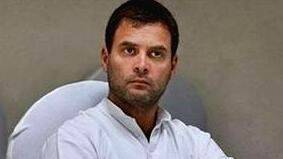 Action In case of disqualification from the post of MP.
THIRUVANANTHAPURAM: State government has withdrawn the personal assistant and driver allotted to Congress leader Rahul Gandhi when he was Wayanad MP. This is in the context of Rahul being disqualified from the post of MP.
The Public Administration Services Department has issued an order releasing Personal Assistant KR Ratheesh Kumar and Driver C Muhammad Rafi with immediate effect. The state government's action comes while Rahul Gandhi's appeal against his disqualification from the post of MP is pending before the Gujarat High Court. Ratheesh Kumar is a senior clerk in the office of the Superintendent of Sulthan Bathery Resurvey, Wayanad. Muhammad Rafi is a native of Vellamunda, Pulinjal, Wayanad. The order directed both of them to immediately return the identity document received from the home department and Ratheesh to report to the parent department.
Rahul Gandhi was sentenced to two years in prison by the Surat Chief Judicial Magistrate Court in Gujarat in a defamation case for his controversial remarks against Prime Minister Narendra Modi during a rally in Karnataka in 2019. Following this, Rahul was disqualified from the post of MP. The Surat District Sessions Court had rejected the plea seeking a stay of the judgment. Rahul vacated the MP residence afterwards. The haste shown by the Lok Sabha Secretariat to disqualify Rahul after the verdict of the Surat CJM Court was much debated. Opposition parties including the CPM had condemned the move against Rahul.