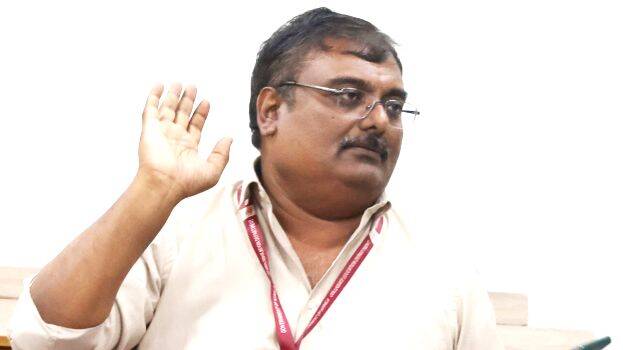 KOCHI: Maharajas College authorities have started an attempt to whitewash SFI State Secretary PM Arsho, who passed the unwritten test with their help.
Principal Dr. VS Joy, who said yesterday morning that Arsho was re-admitted to degree third semester and paid the exam fee, changed his statement in the afternoon. It was explained in the press conference that Arsho was re-admitted in the fourth semester and the fees was not paid. The principal said that Arsho did not do anything wrong.
Meanwhile, there was a clash between the police and the students during the KSU march to Maharaja's College yesterday in protest against the incident. Water cannons were used on the protesters. Many members participated in the march.
According to Dr. Joy, verification revealed that Arsho did not pay the fees for the third-semester examination. An explanation was sought from the Controller of Examinations of the college in this regard. The problem was a technical glitch with the National Informatics Center that manages the exam data. There have been mistakes in the site before and students have complained many times as well. In the report submitted to the Additional Secretary of Higher Education, the principal stated that the reason for the incorrect result of Arsho was a technical error.
The principal's change of statement came after Arsho wrote on Facebook severely criticizing the principal's first explanation. Arsho demanded to release the fee receipt and application form to prove that he had applied for the exam along with the 2021 batch.
Arsho joined the five-year integrated course at Maharajas after completing the five-year course at Ernakulam Law College. Now he is a third-year student.
SFI is the target: Arsho
Arsho said that the attack on him was aimed at SFI. 'I joined Maharajas in the 2020 batch. None of the five exams of the third semester have been written. It was recorded that the exam was not written when the result was published in October 2022. The published mark list is for the regular examination of 2021 batch students. No fee has been paid nor did I register for it. The department coordinator was removed from the post in the complaint related to the revaluation results of the KSU leader, and this is behind the moves against me.'