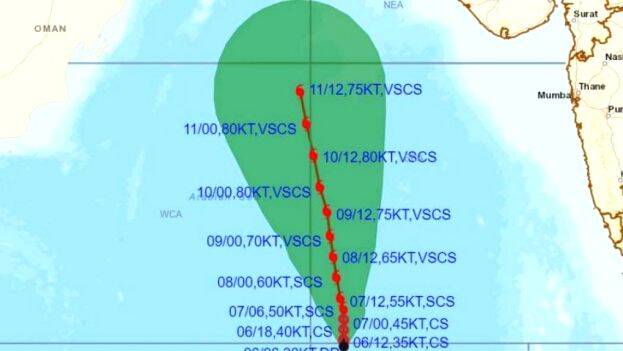 THIRUVANANTHAPURAM: Monsoon will hit Kerala tomorrow and the current rain is due to the influence of Cyclone Biporjoy, which has formed in the Arabian Sea, the Indian Meteorological Department (IMD) has said. West wind has started blowing on the Kerala coast as a sign of monsoon.
Thiruvananthapuram IMD Director K Santhosh said that the rain clouds are getting thicker.
Strong westerly winds, stable cloud cover from Maldives-Lakshadweep to Kerala coast, two days of good rain at rain observatories. These elements are the sign of the arrival of monsoons. These are now favorable. Cyclone Biporjoy has intensified due to low pressure in the Arabian Sea. It is moving northwards with more force. As it moves through the sea, the Indian coast did not experience heavy rains and strong winds. But from the Kerala coast to Mumbai, there were winds with a speed of 40 km and waves with a height of one and a half metres. Due to the presence of Bipor Joy, there was heavy rain in Thiruvananthapuram, Alappuzha, Kollam and Pathanamthitta districts yesterday.
Biporjoy
1. Presently located 1450 km south of Karachi
At a speed of 2.145 km it may reach Oman or Sindh province near Karachi
3. Possibility of moving through the sea till Sunday without touching the coast
4. In that case the damages will be less
Hindrances for monsoon?
Monsoon rain clouds reached over Lakshadweep yesterday but due to Biporjoy, it was unable to advance. As the cyclone moved northwards from the Arabian Sea, the monsoon started moving towards Kerala and is likely to arrive within 48 hours. Biporjoy is the first cyclone to hit the Indian region this season. This name was given by Bangladesh. It means causing disaster.
Monsoon (in mm)
This year the probability is..... 2788
Received in 2022............. 2896.1
State average .....2894.5