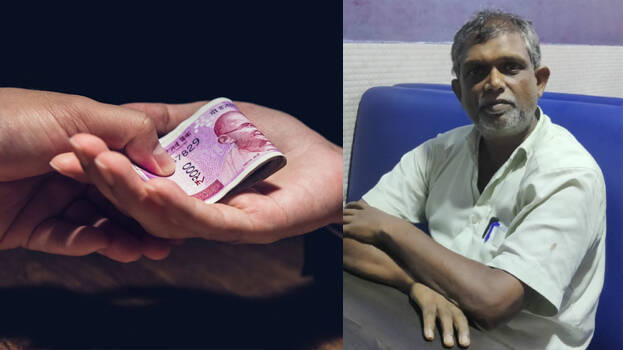 KOCHI: Another government officer was arrested for bribery charges in Kerala. Abdul Jabbar, the overseer officer of Koothattukulam KSEB fell for the trap laid by vigilance officials. A complaint reached vigilance about Mr. Jabbar pestering one person to bribe for an electricity connection. The vigilance made a plan and asked the person to invite Jabbar to a hotel feigning money transfer. The vigilance was awaiting Jabbar's arrival and pounced into action while the transaction was being made.
Palakuzha native reached the KSEB office for a temporary connection in his home which was under construction. Abdul Jabbar asked for Rs 3000 bribe to initiate approval. The person immediately informed the same to vigilance officials. The meeting was arranged at a hotel. The vigilance handed over the special currency notes sprinkled with Phenolphthalein powder to catch the culprit. Mr Jabbar reached the spot and took the money unknowing about the vigilance officials seated next to him.
Corruption is running active among government officials in Kerala. The ministry even promised to curb the ill procedure through rampant actions but nothing productive happened. As of now, the process of bribery is still running unhindered in the state.