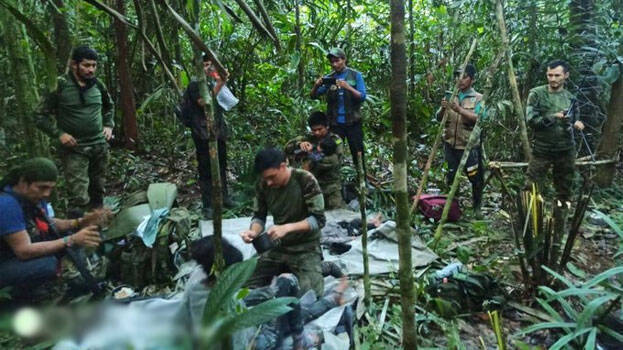 BOGOTA: In a mesmerizing tale of survival, four children who were lost inside the deep dangers of Amazon wildlife were found after 40 days of search. The four also included an 11-month-old toddler. The Colombian president tweeted the picture confirming the successful rescue operation.
It was on May 1 that the airplane crashed into the forest leaving the four children astray from their families. The fault was found on the engine which made the aircraft go crash leaving the indigenous children trapped inside the Amazon darkness. There were a total of seven people in the flight, and the army later recovered the dead bodies of the pilot, the mother of the children, and an indigenous leader from the crash site. The pilot had reported engine problems only minutes after taking off from a jungle area known as Araracuara on the 350-kilometer (217-mile) journey to the town of San Jose del Guaviare.
Albeit doubts spreading about more casualties, the army confirmed the safety of children a certitude as they found the temporary tents and half-eaten fruits from nearby premises. Footprints from the muddy terrains of the Amazon also gave hope to the officials. A massive search by 160 soldiers and 70 Indigenous people with intimate knowledge of the jungle had been underway ever since for the youngsters, garnering global attention.
This part of the Amazon inside Colombia is home to jaguars and boa constrictors. Among the predators also include dangerous drug-peddling groups. The Colombian president rejoiced about the success of the rescue operation labeling it a 'magical day'.