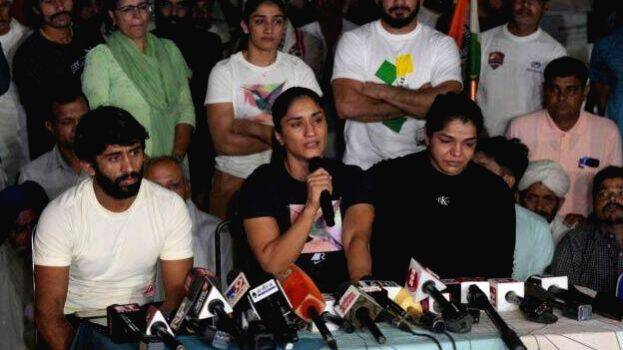 NEW DELHI: As the central government's assurance to file a charge sheet against the Wrestling Federation of India (WFI) chief Brij Bhushan Saran Singh was implemented, wrestlers called off their protests on the streets. The grapplers said that the fight will continue in the court.
Bajrang Punia, Vinesh Phogat and Sakshi Malik clarified their position through Twitter. Vinesh Phogat and Sakshi Malik also tweeted that they are taking a break from social media for a few days.

"Implementing the assurances government had made to protesting wrestlers on 7 June's meeting, in the matter of female wrestlers' sexual harassment, Delhi Police completed an investigation based on FIRs lodged by six female wrestlers, and filed a chargesheet on 15 June. This fight will now continue in the court and not on the streets, until justice is delivered to us," the protesting wrestlers' statement, issued on Sunday, 25 July, read.
In the discussion held by the players with Union Sports Minister Anurag Thakur on June 7, the government had promised to complete the investigation and file a charge sheet by June 15.