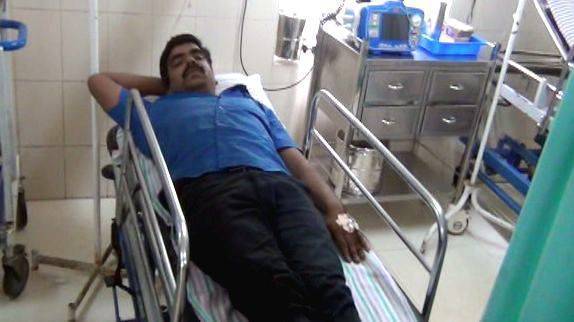 RAJAKKAD: Following the custodial death of Rajkumar, another man who was summoned to Nedumkandam police station following a family dispute has alleged that he was brutally beaten up by the police in the station. The new allegation was raised by Hakkim.
On the night of June 14, Hakkim was summoned to the station. Hakkim alleged that he was beaten up by four policemen after covering CCTV camera. He suffered hours of torture inside the lock-up. He also said that someone was being beaten up inside the lock-up at that time and he was screaming.
Hakkim's mother Sulfath said that she tried to stop them from beating him saying that Hakkim was diabetic and BP patient. But they didn't listen to her and beat him in front of her. Hakkim was later remanded by Peermedu court. As he was scared, to the questions from Magistrate whether he received custodial torture, Hakkim said no.
Hakkim says that he is now facing physical discomforts.
"During the torture, I was holding on to a grill. And they continued beating saying the grill was damaged because of me. I was threatened to be imprisoned after charging non-bailable case if I don't repair the grill", Hakkim said.
Meanwhile, Hakkim's wife Raseena said that her husband's allegations are baseless. She said that Hakkim is a drug addict and used to beat her. Hakkim was summoned to the station after Raseena's father gave a complaint about assaulting her. Raseena said that Hakkim beat her father inside the station and he was put in lockup for that. She also said that the grill was damaged by Hakkim as he stamped on it.