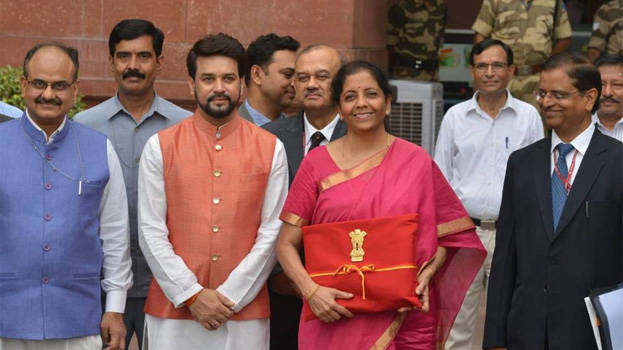 NEW DELHI: Finance Minister Nirmala Sitharaman is presenting the maiden budget of second Narendra Modi government in the Lok Sabha.
The government will do a restructuring of the national highway programme. In the second phase of Bharat Mala, states will be helped to develop state highways.
Government envisions using rivers for cargo transport.
The minister proposes ₹50 lakh crore investment for railway infrastructure between 2018 and 2030, and using public-private partnerships unleash faster development, completion of tracks, passenger freight services.
"Recommendations of high-level committee on retiring old power plants, and addressing the under-utlilisation of power plants will be taken up now. A package for power sector tariffs and reforms will be announced soon."
The minister proposes a modern tenancy law. Loans of upto ₹1 crore to be given to MSMEs for ease of access.
Government will create a payment platform for MSMEs to enable them to pay bills, and save time. The Government will extend pension benefits to 3 crore retail traders and shopkeepers who have a revenue of less than ₹1.5 crore. This will be called the PM Karam Yogi Maan Dhan scheme.
Investment by FIIs and FDIs in debt securities in infrastructure debt funds to be allowed. Minimum public shareholding in listed companies can be increased from 25% to 35%, says the Minister, saying this is being considered.