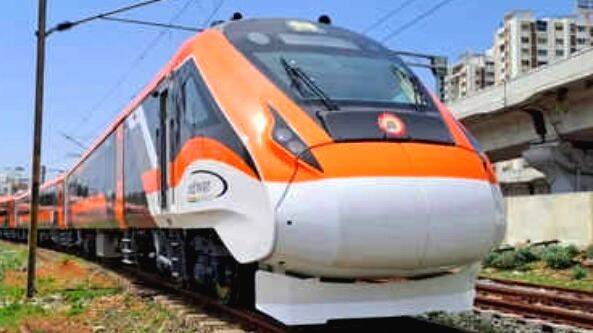 THIRUVANANTHAPURAM: The railway has allotted a second Vande Bharat to Kerala. The first rake consisting of eight coaches left Mangalore Wednesday evening. Kerala will get a rake with a change in colour and design. This rake is allotted by the Palakkad Division. It is indicated that the new Vande Bharat will operate on the Mangalore-Eranakulam route.
Last month, Railway Minister Ashwini Vaishnaw had hinted to BJP state president K Surendran that a second Vande Bharat would be provided to Kerala.
Mangalore - Madgaon-Goa, Chennai Egmore - Madurai - Tirunelveli and Mangalore - Ernakulam routes are under consideration for the new train. It was reported that Vande Bharat would start running on the Chennai Egmore - Tirunelveli route in Tamil Nadu this month. However, it was later postponed. The Mangalore - Ernakulam route is the most profitable of the three routes. The most profitable Vande Bharat route in Kerala is Kasaragod - Ernakulam. The Transporting Department of the Railway Board Office in Delhi informed that a decision regarding the route will be taken within two days.
Kerala has been waiting for a second Vande Bharat for a long time. The railway recently stated that Thiruvananthapuram–Kasaragod Vande Bharat is the busiest service in the country.