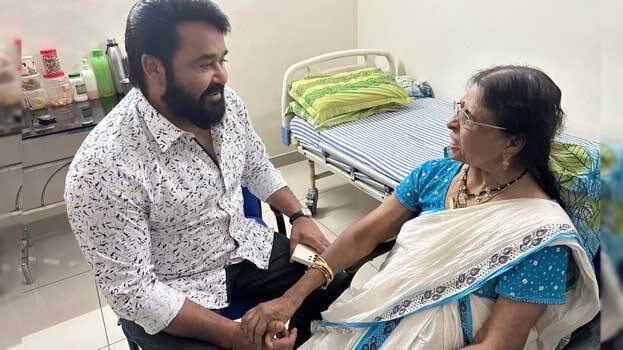 Actor Mohanlal recently paid a visit to the beloved friend of his mother, a woman he holds in high esteem garnering significant attention when his close friend and diabetes specialist, Dr Jyothi Dev Keshava Dev shared pictures of the heartwarming reunion on Facebook. Dr Keshava Dev captioned the photos, 'A priceless, decades-old bond… when dear Lalu chettan came to visit my mother.'
Mohanlal's childhood was closely intertwined with the Keshava Dev family as they were his only neighbours when he moved to Mudavanmukal in Thiruvananthapuram at the age of three alongside his parents Vishwanathan Nair and Shanthakumari. Over time, a deep and enduring friendship blossomed between Seethalakshmi Keshava Dev and Shanthakumari laying the foundation for a strong connection between the two families. Whenever Mohanlal returns to Thiruvananthapuram, he rushes to reunite with his maternal figure Seethalakshmi.
For Dr Jyoti Dev, Mohanlal's mother is as dear as his own. Shanthakumari Amma was a long-time patient of Dr Jyothi Dev forging a strong bond between their families. Even today, Dr Jyoti Dev and his family visit Mohanlal's residence in Kochi to spend time with Shanthakumari Amma. Mohanlal and Dr Jyoti Dev maintain a brotherly closeness, often collaborating on diabetes awareness initiatives led by the Keshava Dev Trust and Dr Jyoti Dev.
These heartwarming connections remind us of the enduring bonds that can form over time and transcend mere friendship, becoming akin to family ties. Such relationships serve as a testament to the power of human connection and the importance of cherishing those who hold a special place in our hearts.