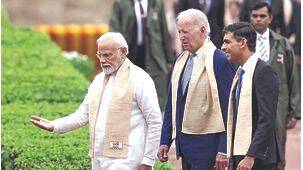 NEW DELHI: The 19th G20 summit concluded yesterday placing India in a leadership position on the global stage. Concerns were raised that the Western lobby's dissent over Russia's invasion of Ukraine would undermine the joint declaration but Prime Minister Narendra Modi's diplomacy overcame it. There was concern that the remarks made in the Bali summit declaration which blamed Russia for the invasion of Ukraine would be repeated. However, India was not ready to blame its Russia.
Consensus is the soul of the G20. If there is no consensus, the summit itself will be considered a failure. Foreign Minister S Jayashankar and Sherpa Amitabh Kant's marathon talks led the US-led developed countries into confidence. The US, opposed to Russia was forced to support the position of close ally India. India's diplomacy with Western lobbying of developing countries with economic interests has also led to consensus not to blame Russia. At the same time, Modi also included in the joint declaration what he had earlier told Russian President Vladimir Putin that this is not the age of war.
India's diplomatic prowess is also in making the African Union a permanent member of the G20 as a representative of the developing countries of the Global South.