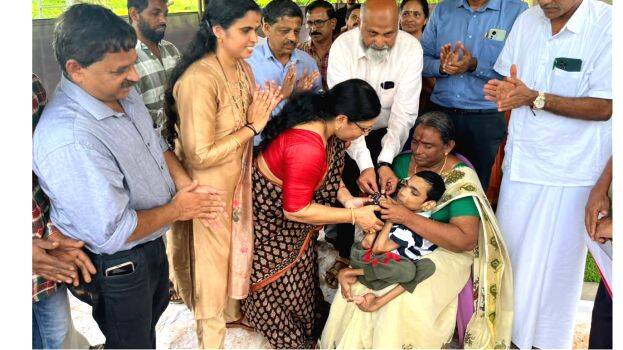 KASARAGOD: Udesh Kumar and his family can finally heave a sigh of relief. Udesh, an endosulfan victim from Anangoor in Kasaragod got his newly built home on the land allotted by the government. It was Kerala Kaumudi news that turned a catalyst for the dream to turn a reality.
The house was constructed at a cost of Rs 11.5 lakh by 'TASK' Charitable Society, a group of 1983-88 batch civil engineering students of Kollam TKM Engineering College. The TASK society works under the able leadership of award-winning writer Ambikasuthan Mangad and writer Bindu Marangadu.
On Sunday, lying on his mother Sarada's lap, Udesh Kumar received the key to his new house from 'TASK' President Yahya Kollam and Treasurer Bindu Sunil. Udhesh's father Gopalan and brother Vignesh took the first step into their new house and conducted a small ritual of boiling milk to formally announce the housewarming ceremony. Many people donated rice, goods, and clothes to the family.
Writer Bindu Marangadu handed over all official documents regarding the house to the family in one modest function held at Nellikatta.