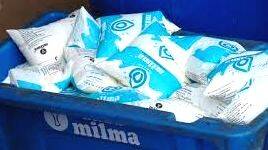 THIRUVANANTHAPURAM: The annual general body meeting of MILMA passed the budget, which expects revenue of Rs 680.50 crore and expenditure of Rs 679.28 crore in the new financial year (2023-24). A surplus of Rs 1.22 crore is expected through this. Apart from expenditure on Milma's cattle feed factories at Pattanakkad and Malampuzha, Central Products Dairy at Alappuzha and head office, the budget also earmarked initiatives that are profitable for farmers and help increase productivity. Resolutions related to the dairy sector of the state were also approved in the meeting held at Milma Bhavan.
Chairman KS Mani said the surplus budget will help MILMA overcome the challenges and achieve further growth. Proposals for the implementation of schemes to increase productivity and attract the younger generation to the dairy sector were evaluated in the meeting. Besides devising plans to attract the young generation to the dairy sector, the meeting also assessed the need to ensure the productivity of Milma by reducing production costs and increasing milk production in the face of shortage in milk storage.
The meeting passed a resolution on issues such as providing central assistance for fodder such as silage, green grass and maize stalks, implementing a comprehensive insurance scheme covering all cows in Kerala, devising a scheme to subsidize interest on bank loans for the purchase of cows, revising farming licenses for cattle rearing, waiving GST imposed on Milma, exemption of dairies from income tax, and inclusion of dairy farming in the Employment Guarantee Scheme.