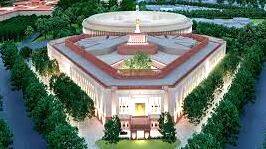 NEW DELHI: The five-day special session of Parliament will begin today. The meeting comes amid rumors of a one country one election bill and renaming the country as Bharat.
The Center is silent on matters such as whether there will be a discussion on the appointment bill of the Chief Election Commissioner and Commissioners. The Center has proposed a selection committee excluding the Chief Justice. The bill was introduced earlier in the Rajya Sabha.
To the new building tomorrow
Tomorrow will be the day of the first session in the new Parliament building. Vice President and Rajya Sabha Speaker Jagdeep Dhankhar hoisted the flag in front of the new building yesterday. Today, the 'Journey of 75 Years of Parliament' will be discussed in both Houses at the old building. Prime Minister Narendra Modi will address the Lok Sabha. Union Minister Piyush Goyal will initiate the discussion in the Rajya Sabha. A joint meeting will be held tomorrow at Central Hall after which they will move to the new building. It is reported that the photo session of the members will also be held tomorrow.
Eight bills; Demand for women's bill
At the all-party meeting yesterday, the opposition, including the Congress, demanded that the women's bill be the first to be passed in the new building. It is reported that Ajit Pawar's faction of NCP and some regional parties have supported the ruling party. The bill will reserve one-third of seats for women in Parliament and the Legislative Assembly. Eight bills including Advocates Amendment Act and Post Office Bill are likely to be introduced in the session. The opposition has demanded a discussion on China's encroachment, the Adani issue, price rise and Manipur riots.