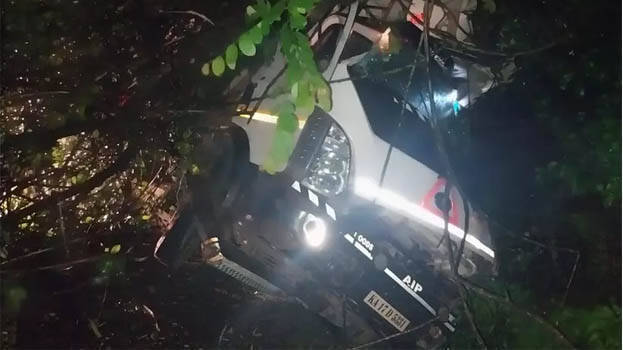 KOZHIKODE: A lorry lost control and overturned into a gorge at Thamarasseri Churam. The incident happened at the ninth bend of the churam around 11 pm last night. The parcel lorry proceeding to Kozhikode from Bengaluru overturned. The lorry broke the protective wall of the churam and hit a nearby tree and then fell into the gorge.
Two natives of Karnataka were in the vehicle. The lorry that fell into the gorge hit the trees and did not fall more deeply. This averted a major tragedy. A week ago, following the damage of a lorry at the 7th bend, traffic restrictions were imposed at the Thamarasseri Churam.

There was an accident at 7 pm last night when the car lost control at the 8th turning of the churam. While climbing the churam, the Innova car collided with the protective wall when it swerved to avoid hitting another car. A major accident was averted as it did not fall into the gorge.