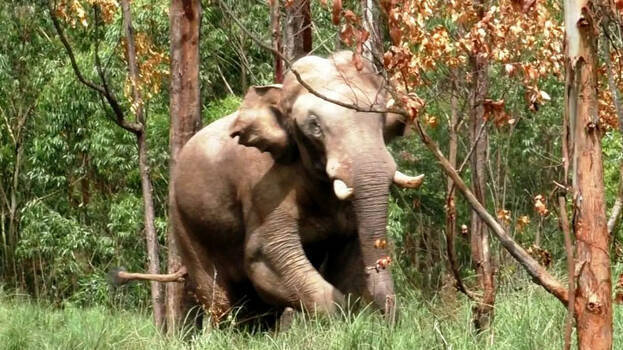 MANJOLAI: After a brief hiatus, the once rogue elephant Arikomban is back again doing his favorite pastime of intruding into the human habitat. According to reports, the elephant reached the Manjolai Hill estate on Monday morning. This place shelters more than 2000 workers. Arikomban has thus moved away 25km from the place where he was first released. On Sunday night alone, the pachyderm walked 10 km without rest. Arikomban has now stationed at Kuthiraivetti. According to Tamil Nadu forest officials, there is no chance for the elephant to return back to Kerala.
Arikomban terrorized the Chinnakanal and Shantampara panchayats for decades, before being shifted to Tamil Nadu's Mundanthurai by the forest officials. He is between 30 and 40 years old.
Arikomban is broad-built with a less effective tusker. Albeit this, the elephant is aggressive day and night and is also a nightmare for other elephants near his surroundings. The elephant used to ransack ration shops, destroy homes, and even kill many humans during his terror run at Idukki. The pachyderm has a mad liking for rice which he usually steals from shops and homes.
Arikomban's exploits were mostly around Colony 301, a residential area in Chinnakanal. Nine times a year, the ration shop in Panniar Estate was broken into and the rice was eaten by breaking the sieves.