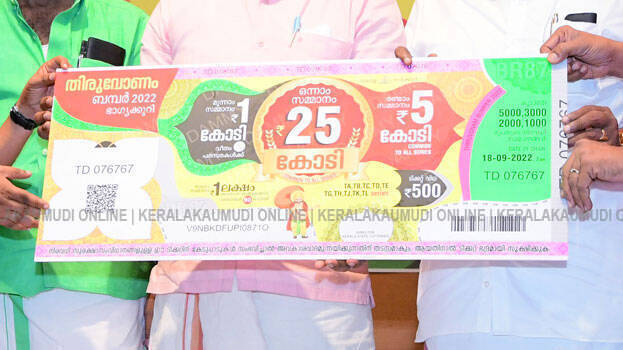 THIRUVANANTHAPURAM: Finance Minister KN Balagopal said that the government will get about three percent as income from the total sales of lottery. He was talking to reporters after the draw of the Thiruvonam Bumper Lottery. 'This is a small amount, but the importance of the lottery as a scheme that provides employment to around one lakh people is huge', said the Finance Minister.
About 75 lakh tickets were sold for the Onam Bumper Lottery. About five and a half lakh people are getting gifts from this many lottery tickets. Apart from this, the money reaches around one lakh agents as well. Lottery is a scheme that delivers money to so many people, said the finance minister.
There was a big change in the prize structure this time. Three and a half lakhs was changed to five and a half lakhs. The prize structure of the Pooja Bumper Lottery has also been changed.
The government gets about three percent as income from the total sales of the lottery. This money is mainly used for things like the Karunya Benevolent Fund. When the CAG pointed out that lottery is the main source of revenue for the government, the minister replied that the government gets only a very small amount after all expenses. Since lottery is a government department, if lottery is sold for Rs 12,000 crore, that amount will be shown in the income column. Prizes and commissions will be deducted from it.
One lakh people can live off of the lottery and that is why it is a big deal. Lottery is a project with great social commitment, the minister said.