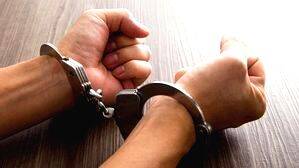 The Cabinet has approved the guidelines from the Home Department regarding the procedures for presenting accused individuals for medical examination. The key recommendation in these new guidelines is that individuals who exhibit violent behaviour whether under the influence of alcohol, drugs or otherwise may be restrained with handcuffs when they are brought before doctors for medical examination and before magistrates for legal proceedings.
The medico-legal protocol, published on May 7, 2022 will be amended accordingly. The shocking incident of Vandana Das's murder, where an accused person stabbed a house surgeon during a medical examination at Kottarakkara Taluka Hospital in Kerala, has prompted the introduction of stringent guidelines. Questions arose as to why the violent accused individual was presented without handcuffs during that incident. However, police sources responded that the law did not permit handcuffing in such cases. The new guidelines, formulated by the State Home Department, are comprehensive and provide clear instructions.
Henceforth, even during medical examinations, police officers should not remain distant from accused individuals in custody, unless advised otherwise by a doctor for valid reasons. Handcuffs may also be removed upon request by the medical officer conducting the examination. When available, senior doctors should oversee the examination of the accused, with junior doctors consulted only in their absence.
Kerala has witnessed a surge in drug-related cases and associated offenses, with numbers doubling each year. Predicting the behaviour of accused individuals in custody, especially when deprived of substances, is challenging. In such cases, the propensity for violent actions is considerably higher. Therefore, the mandatory handcuffing of individuals suspected of being aggressive during medical examinations is a welcome step.
Doctors should now be informed in advance when police are bringing accused individuals to the hospital. This will enable necessary precautions and security measures to be taken, avoiding mistakes like those that occurred in the Kottarakkara incident. Furthermore, accused individuals involved in offenses such as public intoxication, drunken driving, rioting and violent behaviour can no longer be presented for group medical examinations. The new guidelines also specify that more than one person in custody should not be brought to the emergency department simultaneously.