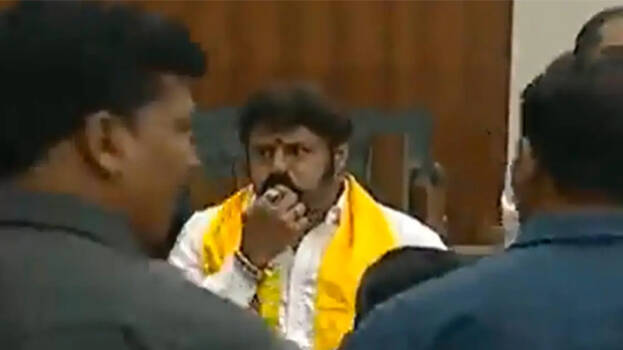 NEW DELHI: Party MLAs continued protests against the arrest of Telugu Desam Party (TDP) leader and former chief minister of Andhra Pradesh N Chandrababu Naidu. TDP MLA and actor Nandamuri Balakrishna protested in the assembly by blowing whistle.

Nandamuri Balakrishna had made a gesture challenging Irrigation Minister A Rambabu. Following this, Balakrishna and 15 TDP MLAs were suspended from the assembly for one day yesterday for disrupting the proceedings.

However, when the assembly convened today, Balakrishna continued protests again. As soon as the question hour started, the TDP MLAs swarmed the speaker's podium. They raised slogans demanding the withdrawal of cases against Naidu. Andhra Finance Minister Buggana Rajendranath criticized the TDP MLAs and urged them to maintain decorum.
Meantime, Balakrishna responded that it was the YSRCP leaders who started the ruckus in the assembly and that they are fighting for justice. The case against Naidu is that he committed a scam of 371 crores in connection with the Skill Development Corporation.