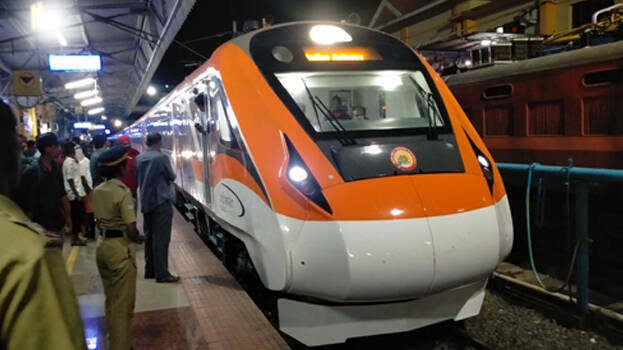 THIRUVANANTHAPURAM: Prime Minister Narendra Modi will inaugurate the second Vande Bharat Service of the state today at 12.30 pm via video conferencing. The function is held at the Kasaragod railway station. Along with this, the Prime Minister will also flag off Vande Bharat services in eight other states of the country. Reception will be accorded to the new Vande Bharat in all stations from Kasaragod to Thiruvananthapuram.
Advance ticket booking for the second Vande Bharat started from yesterday. Regular services will start from Thiruvananthapuram on Tuesday and from Kasaragod on Wednesday. Kasaragod-Thiruvananthapuram Vande Bharat Express service will run with eight coaches. The service is from Kasaragod to Thiruvananthapuram via Alappuzha. The train will operate on all days except Tuesday. Thiruvananthapuram-Kasaragod service of this train will not operate on Mondays.
Train number 20631 Kasaragod-Thiruvananthapuram Vande Bharat will depart from Kasaragod railway station at 7 am. It will reach Thiruvananthapuram at 3.05 pm in eight hours and five minutes.

Train No 20632 Thiruvananthapuram-Kasargod Vande Bharat Express will leave Thiruvananthapuram at 4.05 pm and reach Kasargod at 11.58 pm in 7 hours and 55 minutes.
The first Vande Bharat service started in the state in April. With this, Vande Bharat services of both colors reach the state as well as Vande Bharat services are conducted from the southern parts of the state in the morning and evening. There is a service from Thiruvananthapuram to Kasaragod at 5.20 am and from Kasaragod to Thiruvananthapuram at 7 am. Similarly, there is a service from Kasaragod to Thiruvananthapuram at 2.30 pm and from Thiruvananthapuram to Kasaragod at 4.05 pm. This is a big relief to the travel problems in the state. If one Vande Bharat is via Kottayam, the second is via Alappuzha.
Ticket charge
From Thiruvananthapuram to Kasargod, it is Rs 1515 in chair car and Rs 2800 in executive. It is Rs 1590 and Rs 2880 respectively in the first Vande Bharat. From Kasaragod to Thiruvananthapuram, the new Vande Bharat fare is Rs 1555 in chair car and Rs 2835 in executive. In the first Vande Bharat, it is Rs 1520 and Rs 2815 respectively. The difference in food prices is the main reason for the small difference in ticket prices.
Rates from Thiruvananthapuram
Station, chair car, executive
Kollam- 485, 910
Alappuzha-580,1105
Ernakulam-685,1320
Thrissur-1025, 1795
Shornur-1085,1925
Tirur-1150,2045
Kozhikode-1210, 2170
Kannur-1365,2475
Kasargod-1515, 2800