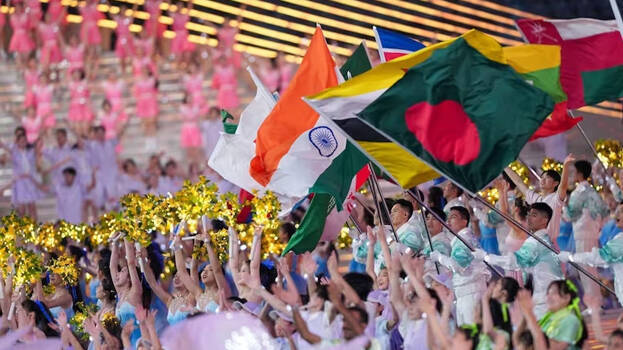 BEIJING: India started clinching medals at the 19th Asian Games in Hangzhou, China. Won silver medals for shooting and rowing. India's team of Mehuli Ghosh, Ashi Chouksey and Ramita got silver in 10m air rifles. Arjun Lal and Aravind won silver in rowing. Their medal achievement is in the light weight sculls category. Mehuli Ghosh and Ramita have reached the finals in shooting. India beat Bangladesh and reached the final in women's cricket. China won gold in 10m air rifles and rowing.
The 19th Asian Games began in Hangzhou yesterday. Chinese President Xi Jinping, International Olympic Committee head Thomas Back, Asian Olympic Council Acting President and Indian Raja Randhir Singh participated in the event. Union Sports Minister Anurag Thakur did not attend the ceremony protesting the denial of visas to three wushu athletes from Arunachal Pradesh.

Men's hockey team captain Harmanpreet Singh and Olympic bronze medalist women's boxer Lovelina Borgo Hein carried the Indian flag in the march past at the opening ceremony. India's largest contingent of 652 Asian Games has arrived in Hangzhou. Eight Chinese Olympians lit the Games torch digitally. The stadiums will be fully operational from today.

45 countries of the Asian continent are participating. India is fielding 652 players in the matches where 12,414 sportspersons are competing. 655 people were selected but three wushu players did not come because China denied them visa. This is the Asian Games where most Indian athletes participate.