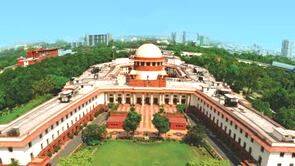 NEW DELHI: The Supreme Court has formed a three-member special bench to hear petitions seeking a review of the judgment that upheld the extensive powers of the ED. This bench composed of Justices S K Kaul, Sanjeev Khanna and Bela M Trivedi is scheduled to hear the case on October 18.
The court affirmed the ED's powers including the authority to make arrests under the Prevention of Money Laundering Act and upheld the constitutionality of the statutory provisions. Karti Chidambaram, a defendant in the INX Media case and a Congress leader has filed review petitions challenging this decision. Justice S K Kaul stated that the bench would also consider the reasons presented by the petitioners for re-examining the case. Additionally, it was noted that if these reasons are not considered, the matter may be referred to a larger bench.
On July 27, 2022, in the Vijay Madanlal Chaudhary case, a three-judge bench led by Justice AM Khanwilkar issued a significant verdict.
The aspects under re-examination include
The determination that the ED is not considered a police agency and that no copy of the Enforcement Case Information Report (ECIR), an internal document, should be provided to the accused.
The assertion that the ED's ECIR and the police's FIR are distinct entities.
The determination that the burden of proving innocence lies with the accused.
The provision in the law specifying a double condition for obtaining bail, which necessitates reasonable grounds to believe that the accused has not committed the crime, along with conditions assuring that the offense will not be repeated while on bail.