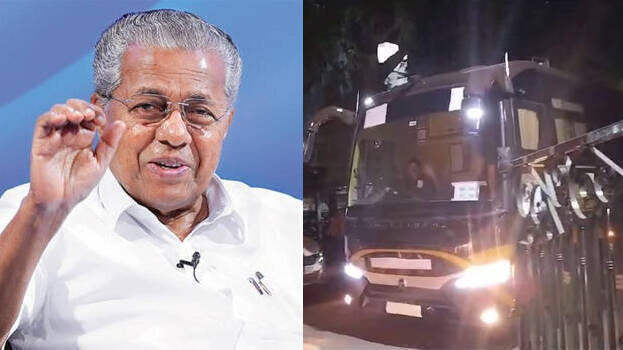 THIRUVANANTHAPURAM: Social media is abuzz with discussions surrounding the luxury bus that the Chief Minister and ministers will use for the 'Nava Kerala Sadas' that begins on Saturday. The bus which costs more than Rs 1 crore comes in black colour emblazoned with golden stripes.
It was initially planned to allow a separate room for the Chief minister inside the bus but the plan was dropped lately. And now, as per emerging reports from Manorama, a 180-degree swivel chair has been brought from China just for the CM to be seated inside the bus. The chair arrived a month and a half after ordering.
The bus will have a separate seating facility for all ministers and also occupy a special area near the driver's seat where the ministers will engage with people. The bus also houses a bio-toilet and fridge for the ministers to use.
Another attractive feature is the lift used in the Bus. The ministers need not climb the steps but should only reach near the doors when the lift will automatically serve all purposes and will take the passengers inside. This feature is being tried for the first time in Kerala. The government had sanctioned Rs.1 crore and five lakh rupees for the purchase of the bus the other day. The plan is to hand over the bus to KSRTC after the journey. On the outside of the bus, a sticker in bold English will be placed saying " Kerala is the gods own country".
The 'Nava Kerala Sadas' will be the first such public relations program conducted by any state government in the country. During the trip, people can interact and lodge complaints with ministers and Chief ministers. The solution to this problem will be found within 20 to 45 days. The trip will conclude on December 24th while there are strong rumours terming the attempt as a gimmick to lure voters during the next Lok Sabha elections.