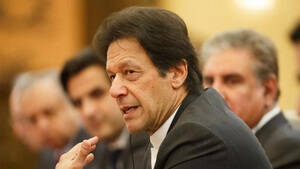 ISLAMABAD: Pakistan PM Imran Khan announced that he is observing 'Black Day' on India's Independence Day as a sign of protest regarding Kashmir issue. The Pakistan Prime Minister is also seen using a black image as the profile picture of his official twitter page.
Imran Khan also accused India of planning to attack the country following the Kashmir issue. According to him, the Indian army has been mobilising its troops in the POK region ever since the government scrapped Article 370 thereby revoking Jammu and Kashmir's special status. He even went on to admit that the Indian Air Force's attack in Balakkot area was a shock to Pakistan. He fears that India is planning to conduct a similar attack in another part of the country.
Earlier, Imran Khan had attacked the RSS saying that it is planning to commit genocide in Kashmir through the new reforms. Imran Khan, who announced himself as an ambassador of Kashmir, added that he will urge international bodies to intervene in the issue and give justice to the people of Kashmir.