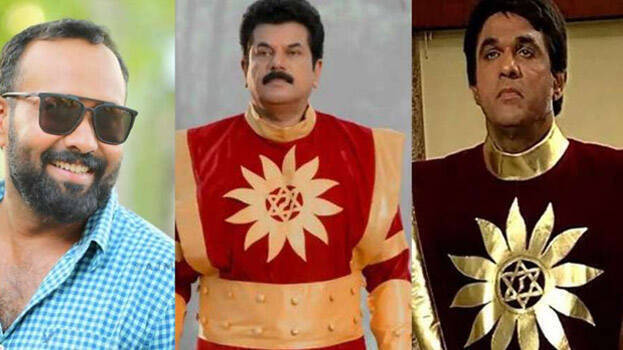 'Original Shaktimaan' actor Mukesh Khanna's complaint against director Omar Lulu for portraying actor Mukesh donning Shaktimaan costume, had stoked a controversy recently. Mukesh Khanna, who played the title role of Shaktimaan, himself lodged the complaint to Renji Panicker, the president of FEFKA Director's Union. The complaint mentioned that he is the copyright holder of the character Shaktimaan and without his permission Omar Lulu portrayed Mukesh in that role. Mukesh Khanna had asked Omar to stop using the scene in the film or else he would be forced to take legal action against him. However, Omar has now apologised to Mukesh Khanna by posting in the Facebook.
Mukesh Khanna was the main actor and producer of the serial 'Shaktimaan' aired in Doordarshan. 'You own the copyright holder of the character of Shaktimaan, dress, background music of serial etc. I apologise to have used the character in the movie without your permission. But you have some misconceptions in the complaint. Mukesh is not playing the role of Shaktimaan in the film. He just appears in a small role in the role of Shaktimaan, he mentioned in the post.
'FEFKA had informed me about the complaint given my Mukesh Khanna. I had not tried to use the dress, theme music etc. without your permission in the film. I apologise for it. I will be using your name in the title credit of the film. Mukesh just appears in that dress in a small scene. Mukesh Khanna might have misunderstood that this film is entirely the story of Shaktimaan. Mukesh is playing the role of Shaktimaan only in the scene which is only 10 minutes long.
Omar said that he first thought of superman in the film but later chose Shaktimaan because the serial in Doordarshan had attracted everyone since its inception. Shaktimaan was one of my childhood favourite heroes. The admiration and love towards you is greatly appreciated. Shaktimaan is always nostalgic for the Keralites. You persuaded young minds to use their power and fight against the injustices of society. I hope you accept my apology. I hope that all controversies related to this will end with this. "