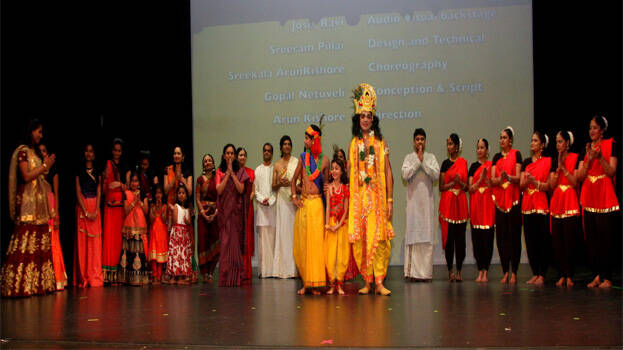 Art could elevate one to a performer and an ambassador of art that transcends national, cultural and religious boundaries said Tara Rajkumar at KALA annual day in Berkhamsted. The winner of this year's KALA puraskaram, Dr Indu, presented Nangyarkoothu, to a spellbound audience who were treated to the intricacies and vagaries of the pious Akrura's mind, as it meanders and bounds with emotions across the life of his favourite subject, Krishna. The Bhibalsa Rasa displayed when the half lion, half man Narasimha tears into Hiranyakashapu, the evil king, brought revulsion to the stunned audience, as it should, as if blood and guts spill over, right in front of your own eyes. This felt so strange coming from an otherwise demure actor, attired in arguably one of the best looking costumes in the ancient tradition of the performing arts of Kerala.
Staged by KALAYUDE THALA in recent memory. When the brains of Gopalakrishnan Netuveli collides with the artistic duo of Arun Kishore- Sreekala and the talented Amrita Jayakrishnan, it is as if the floodgates of art just opened up. Ably supported by the KALA youth (kudos to the youth co-ordinator, Anjana and her crew), the life and path of Krishna was lovingly and thoughtfully created, that took us on a lovely journey with special emphasis on the strong pillars of his existence- playful innocence, duty, action, knowledge, meditation and guidance. What was most interesting was how the presentation skilfully extrapolated this ancient wisdom to contemporary life, which, unfortunately is still steeped in societal divisions, based on real ignorance of religious, cultural and gender issues. Hats off to the creators, for stimulating us to think about solutions to current problems, long after we had left our seats.

KALA's in-house skit was a welcome forage into the humorous escapades of adolescence , who are by default, prone to impulsive and dreamy states of existence. Their school reunion after 25 years had the audience in stitches, while underlining a serious message to protect our environment through planting more "Nanmamarams".
What followed dinner, was an absolute treat by Shri Margi Madhu demonstrating his skill and experience of the heritage art of Chakyar Koothu. The evening ended with a tribute to Babukka- the legendary music composer M S Baburaj, conceived and directed by none other than his namesake, our own Dr Baburaj. The opening melody "Oru Pushpam Maathram" sung so melodiously by Mahesh set the tone to the lovely treat that was to follow. Dr Ramkumar, Aishwarya, and Aparna backed by Vipin and Asha, soulfully rendered the evergreen melodies, much to the crowd's delight. The historical insights, facts and trivia provided by the presenting team, enriched the canvas depicting this great composer's life. We were guided throughout this enjoyable evening by Dr Ramesh and Srikumar, who kept us entertained with their wit, knowledge and charm. A special mention about the audiovisual team, who underpinned the entire show with their stunning backgrounds, sounds and lights and their attention to detail. The delicious and sumptuous food, from Muziris, the best Kerala caterer in town, and served by KALA volunteers, earned rave reviews.