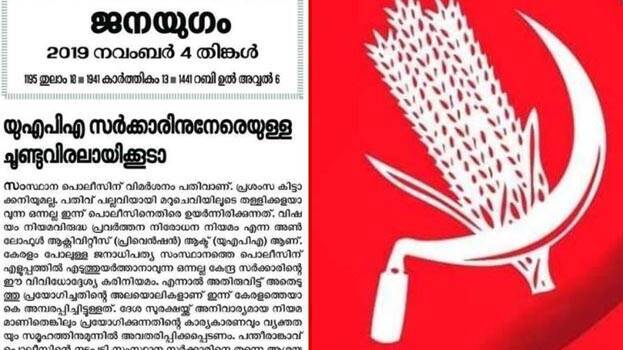 THIRUVANANTHAPURAM: In a recent development, the CPI has lashed out aganist the government and state police over the arrest of two students for alleged Maoist links. According to CPI mouthpiece 'Janayugam,' the action of the police is confusing the government. It also urged the government to look into the mysterious moves of the top police officials.
Earlier, the CPI and its supporters had launched criticism against the killing of Maoists in Attapadi. According to the article published in Janayugam, the students cannot be called Maoists just because of the pamphlets and the police have failed in establishing any Maoist links. It also alleges that the UAPA arrests were made to divert attention from the cruelty in Attapadi.
The police are unable to explain on what basis did they charge UAPA against the students. The fact that they are continuing to say that the students have Maoist links is suspicious as they have failed to exhibit any evidence regarding it. It is quite clear that no factual investigation has taken place in connection with the case, the mouthpiece pointed out.