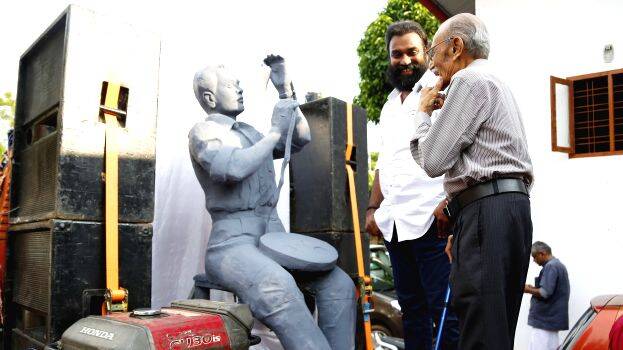 KOTTAYAM: JC Daniel, the director of 'Vigathakumaran', is considered as the father of Malayalam cinema. However, it is a pity to find that authorities have done nothing to unveil a statue in respect to the great man. Despite, the efforts made by his son Harris Daniel and his family, no progress has been made regarding the installation of a statue.
Earlier, the JC Daniel foundation headed by Harris Daniel had supervised the construction of a 9-feet statue. It was artist Shaji who sculpted the statue. Since then Harris has been requesting the government to provide a place to install the statue. The statue, which depicts a young Daniel looking through a film roll, remains covered at the office of the foundation.
Poonjar MLA PC George too intervened to find a solution to the issue. At a recent function in Kottayam, George said that he will readily give away land for the installation of the statue if the government fails to find a solution within one week.
Daniel, the director, producer and cinematographer of the first-ever Malayalam film Vigathakumaran, died in 1975. The government recognised him as the father of Malayalam cinema in 1992 and instituted an award in his memory.