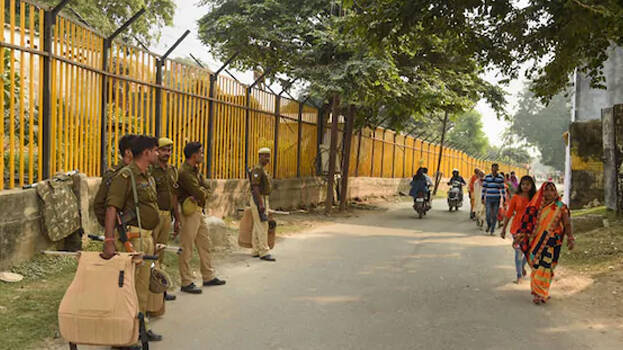 NEW DELHI: The much-awaited judgment on the politically sensitive case of Ram Janmbhoomi-Babri Masjid land dispute in Ayodhya is set to be pronounced at 10.30 am today. A five-member Supreme Court bench headed by Chief Justice of India Ranjan Gogoi will deliver its verdict in the Ayodhya temple-mosque title suit. The verdict, to be delivered, will hope to bring about a resolution to a decades-old dispute that even resulted in the demolition of the Babri mosque in 1992 by right-wing activists. Given the sensitivity of the case, the government has increased the security cover for all the judges involved.
Chief Justice Ranjan Gogoi and Justices S A Bobde, D Y Chandrachud, Ashok Bhushan and Abdul Nazeer are the five judges delivering the verdict. The country is on high alert following the verdict in the case. Prime Minister Narendra Modi appealed to the people that the priority should be to strengthen India's tradition of maintaining peace and harmony after the verdict is pronounced. Chief Minister of Kerala Pinarayi Vijayan has appealed to all citizens to exercise restraint when reacting to the Supreme Court verdict to be delivered on the sensitive Ayodhya dispute, whatsoever it be. Prohibitory orders have been clamped in Uttar Pradesh and Jammu Kashmir. The orders are till December 10. The ban has been issued in all five police station limits in Kasargod like. Manjeswaram, Kumbala, Chandera, Hosdurg and Kasargod.
Chief justice Ranjan Gogoi had called UP Chief Secretary Rajendra Kumar Tiwari and DGP Om Prakash Singh in his chamber yesterday. He reviewed security measures and directed to tighten security.

As a precautionary measure, all educational institutions in Uttar Pradesh, Delhi and Madhya Pradesh will remain closed on Saturday. Elaborate security arrangements have also been made across the state and a special vigil is being maintained on social media. If required, checks would be imposed on it.