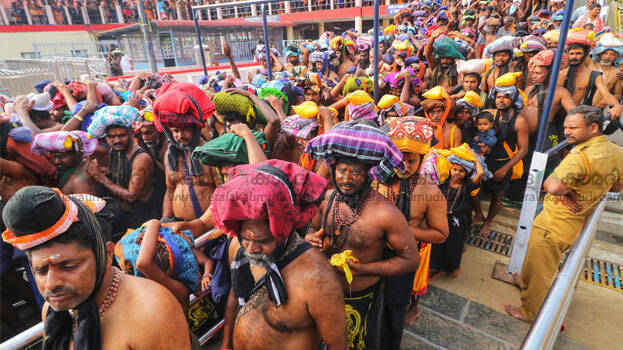 SABARIMALA: The state police did not allow a 12-year-old girl from Pondicherry to pray at famed Lord Ayappa shrine here at the Sabarimala temple. Despite cries and wails from the young girl and pleadings from the father, the police told them rules and traditions of the temple do not allow entry of women in the age group 10 to 50.
The girl who came along with her father and other relatives was stopped by the police at the Pampa base camp. Such incidents continue even after the Supreme Court last week did not stay its September 28, 2018, verdict allowing women of all ages to visit the shrine.
The girl was left in the company of women police officials, while her father and the others proceeded to the temple located at the top of the hill.
The two-month-long Sabarimala temple festival officially opened for pilgrims on Sunday.
Till now seven women have been denied permission to pray at the shrine as all of them fell in the earlier banned age group.
Though the apex court on Thursday gave a 3:2 verdict referring the Sabarimala review pleas to a larger bench, it maintained that it has not stayed its September 28, 2018 order allowing women of all ages to enter the temple.
But this time the Kerala government has made its position clear that it would not make any effort for the entry of women into the temple to pray.
Last year, the police provided security to women who faced stiff resistance from activists of right-wing outfits.
Travancore Devasom Board President N Vasu, who recently took over as the new president said there is a lot of ambiguity in the latest apex court verdict.
"We are not going to take any extra efforts to get clarity as we are extremely busy with the day-to-day running of the temple," said Vasu.