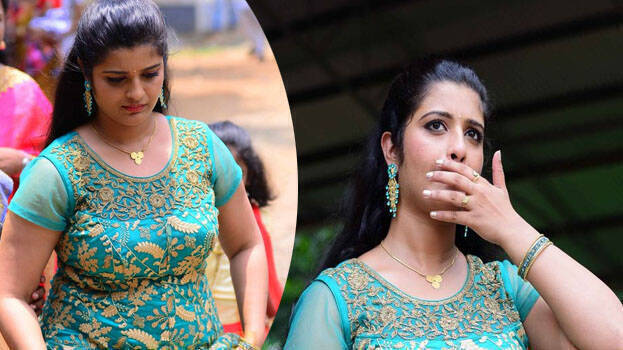 The number of cyber cases is on the raise day by day. There are many perverts who give sleazy comments to FB posts and propagate morphed pictures. Most of these crimes are happening against stars.

In a Facebook post, actress Shalu Kurien says that "Just because we are in the TV-Cinema field doesn't mean that we would compromise on our morality."

"Those who commit the cybercrime will only know the seriousness and repercussions of the matter when all on sudden the police walk in, arrest and takes you away from the front of your relatives... The Cyber police can easily nail you, whichever part of the world you are operating. If that happens, it will affect not only you but also your job and studies. Social media is very strong and double-edged sword," she writes.
FB post:
People who post vulgar and inappropriate comments on Artists page and pics pls understand that this is a profession just like yours. Being in the tv and film industry doesn't mean you compromise on your ethics and morals, you many hear lots of fake stories, pls don't take those seriously because most of them are lies spread. Also be aware that our cyber laws have become much stricter. You will only know the seriousness and repercussions when suddenly police will come and pick you from your home in front of your parents, wife and kids and your close ones will know and feel ashamed of you, not to forget the trouble you will have to endure both financially and casewise for one minute of your guilty pleasures. This applies to people who cut and post videos and pics on Youtube and other social medias in slowmotion and zooming on female artists and also for people who comment and post on the link. You may do this for getting maximum likes, views, subscribtions for your channels by sensationalizing content but once the police and cyber case proceedings start you will wish you had never done it in the first place.
Also kindly undestand that Case has been registered so just wait for the result to come, no matter which part of the world you hide and operate it may not just affect you but your job and studies as well, as you will be thrown out from your job and shamed on social media. Social media is a double edged sword, pls be advised of the Afteraffects before posting any vulgar words, pics, videos of women. Even if you delete it later they can find the guy who posted and retrieve it back and frame a case. No amount of saying sorry or crying will help once you are arrested.Cyber police have become stricter and will catch hold of culprits much sooner than before. Take this as a humble request. On behalf of all female artists facing such trouble in this profession 🙏🙏,
Sincerely,
Shalu Kurian