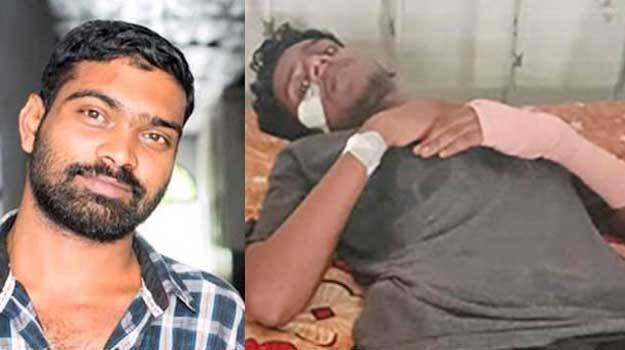 THIRUVANANTHAPURAM: Notorious criminal 'Ettappan Mahesh' is behind the attack towards Nithin Raj, KSU unit joint secretary, at the University Hostel. A team led by SFI activist Mahesh brutally attacked Nithin Raj. Some footages of Mahesh threatening Nithin before the attack has come out.
In the 10-minute long video, Mahesh is seen threatening him and is also seen hurling abuses at him. He is also commanding Nithin to bring a matchbox to light the cigarette and is also seen manhandling him. Nithin's hostel mate Sudev was also not spared. Seriously injured Nithin has been admitted at the Thiruvananthapuram Medical College Hospital.
The incident happened Wednesday night at 11 pm. Mahesh along with his friends came to Nithin's room and attacked him seriously. A case has been registered against Mahesh on Nithin's complaint. Mahesh, who has been staying in the hostel for years, is confirmed to have a criminal background. However, SFI's explanation is that Mahesh is not their activist.
It was alleged earlier that Nazeem and Sivarenjith, accused in the college stabbing issue, was controlled by Ettappan. Many complaints were lodged against students for staying in the hostel even after their courses and for threatening students and collecting money from them.
Meantime, KSU has sought a detailed probe on the incident as more are involved in the attack. Organisations including KSU have started units soon after the stabbing issue in the college. This is the reason for the attack, alleged KSU.