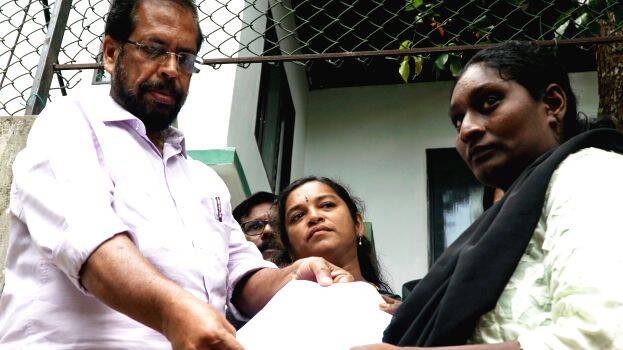 THIRUVANANTHAPURAM: Mayor K Sreekumar has kept his words. On Monday, soon after news channels flashed the story of Sreedevi, who had to hand over her four children to Child Welfare Board as she was too poor to take care of them, the City Mayor had visited her shanty. He offered her a flat to stay and a temporary job in the City Corporation.

The time it took for this mother of six, living at Kaithamukku in Thiruvananthapuram in extreme poverty, to become a Corporation employee who can draw a salary of Rs 17,000 was just one day.

The Mayor on Tuesday handed over the job order to her. The appointment order says that she has been given a temporary job of a cleaner under Corporation health department.

Rs 630 would be her daily wage.
Mayor had also offer her a flat for stay in one of the Corporation flats at Kannamoola, Kalladimukham or Karimadom. Sreedevi and her two children are now staying at Poojappura Mahila Mandiram. They will soon be shifted to Dale View at Vellanadu Punalal since construction works are going on in Mahila Mandiram.

Currently her two male children and two female children are with the Child Welfare Board at Thycaud. Board authorities said the kids' health is satisfactory but they are underweighted and have nutritional deficiency.

Sreedevi's husband is a drunkard. Though he is a daily-wage worker, he didn't give money even for food. Moreover, he came home drunk and beat up the kids and the mother.

The age differences of children were only one year. Her husband also hounded away the neighbours who came to enquire about her plight.
However, one among them was bold enough to call up the Child Welfare Board and narrate the life story of Sreedevi. And, it is that single phone call that has changed the destiny of Sreedevi and her children.