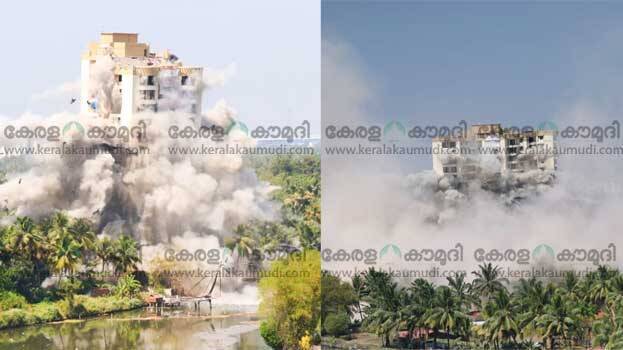 KOCHI: Alfa Serene twin towers have been razed to the ground through a controlled implosion. The visuals indicate that a part of the debris might have fallen into the lake.
Holy Faith was the first among the four flats to go down at 11.19 am after three sirens. Although the first siren was on time, the second siren was delayed from the scheduled time as a helicopter of the Naval Force was surveying the area and had to clear the no-fly zone.

With the demolition of Holy Faith and Alfa Serene twin towers, scheduled implosions on Saturday have been carried out successfully.
The flats were reduced to a pile of concrete rubble within five seconds of the implosion. A cloud of dust smoke covered the area after the implosion.
Holy Faith is the first flat in Kerala that was demolished through implosion. Edificecarried out the demolition of Holy Faith. The demolition of Alfa Serene 1 and 2 was done by Vijaya Steels.