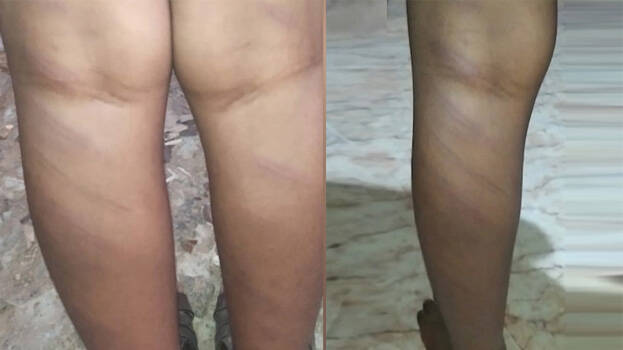 KADUTHURUTHY: Mini Joseph, a teacher of Mannarappara LP School at Kuruppanthara in Kottayam has been suspended for severely beating a student of class two, said the school management. DyFI and SFI activists staged a protest march seeking the arrest of the teacher. The march was staged in front of the school entrance. The police registered a case against the teacher on the complaint of the child's mother.
The complaint mentioned that Pranav Raj, younger son of Soumya and a student of Kuruppanthara Mannarapara St Xavier's L P School, was severely beaten by his class teacher. There were 21 beat marks on both his legs. The child was taken to Kuravilangad Taluk Hospital by his mother and relatives.
The version of his mother was that the teacher called him to her side to make him read Malayalam soon after lunch. She beat her for not reading properly. When he reached home in the evening, his grandmother saw the marks on his legs and asked him the reason. She soon reached the school with the boy but the teacher had gone home. They returned after other teachers said they will inform her. When the boy's mother spoke to the teacher, she said that she beat him to make him read properly.
They later lodged a complaint at the childline after contacting Janamaithri Police. After the boy's father died in an accident a year back, his mother was looking after the family.
When the incident stoked a controversy, the school authorities visited the boy's house apologizing for the incident. They returned after his relatives stuck to their complaint. Kuravilangad AEO E S Sreelatha mentioned to take strict action.