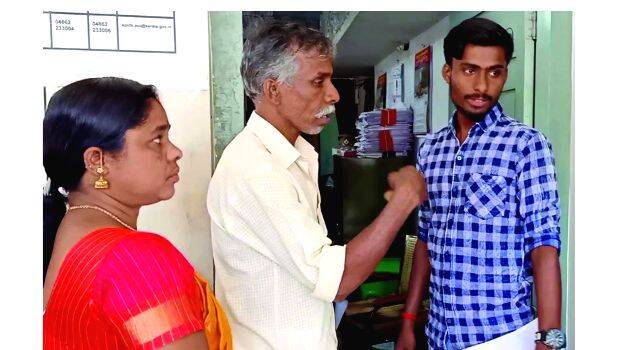 KATTAPANA: The police have launched a probe on a complaint that Kattappana circle-inspector misbehaved with a family that was returning home from hospital with a baby. The complaint lodged with Kattappana DySP alleges that the CI assaulted Kripamon (21), his father Krishnankutty (52) of Kizhakkemadam in Sanyasioda and harassed his mother Valsamma, sister Kripamol and brother-in-law Abhijith of Kalluparambil.
The incident was around 8.30 pm. The family went to a hospital in Kottayam for the treatment of the 30-year old baby and was on their way home in a jeep. At Mattukkatta, a car in front of the jeep suddenly braked and the jeep had to steer away. The baby's body hit the jeep's handlebar. Out of rage, the family inside the jeep shouted, "where are you keeping your eyes on while driving" without knowing that it was Kattappana CI V S Anilkumar in civil dress. CI and the driver, who were drunk, hurled abuses at the family. Without replying, the family drove away. The inspector's car then chased the jeep down and tried to block four times. The car tried to cross the vehicle at Edassery Junction in Kattappana and the jeep went to Kattappana police station through a narrow road. The car followed the family to the police station. The circle inspector then beat Kripamon and his father after taking them inside the station. The complaints accuse the officer of verbally abusing Kripamol and Valsamma. A case was registered against Kripamon and was allowed to leave on bail after subjecting him to a medical examination at taluk hospital. Kripamon and his father Krishnankutty later that night sought treatment at the taluk hospital. They lodged a complaint with the DySP by noon on Wednesday.
The circle inspection has denied the allegations. According to him, he noticed an overspeeding jeep while travelling in a private vehicle and informed the police station to check the jeep.

"The jeep didn't stop even after the police asked them to. Later, they were stopped in front of the station and questioned. They were kept in preventive detention for one hour".
The CI dismissed the allegation that he was drunk and said he underwent a medical examination at the taluk hospital on the direction of a senior official.